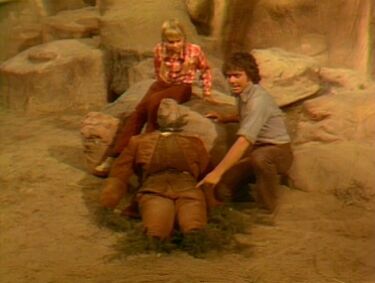 Dinosaur Nip is a fern-like plant found in the Land of the Lost. It has a pungent aroma which attracts the dinosaurs in the area, even carnivores such as Grumpy.
The plant seems similar to hemp and can be used to craft certain objects. The Marshalls use it to make an insect screen to cover the mouth of their cave at High Bluff, but Grumpy eats it. Following this incident, Holly Marshall surmises that Grumpy, although carnivorous, is attracted to the plant. She relates how she began calling the plant Dinosaur Nip after seeing Spot play with it, reminding her of a cat playing with a catnip mouse.
After learning of Grumpy's attraction to the plant, Rick Marshall decides to have the family uproot all the Dinosaur Nip around High Bluff and throw the plants into the Crevasse. It is known that Harry Potts also used it to create a dummy to misdirect the Sleestak.
Episode(s)
Edit
Community content is available under
CC-BY-SA
unless otherwise noted.